This release includes updates for map settings, search, and PDF reports, as well as changes to the Acres Free Plan for desktop.
Changes to Free & Premium Plans
We implemented the changes to the Acres Free Plan for desktop we previously announced. As a reminder, the following features in the Free Plan for desktop have been moved to our Premium Plan:
Historical imagery up to the most recent year
Vegetation index up to the most recent year
Crop history up to the most recent year
Land owner names
Buyer and seller names for sold land
Water layers (currently available for California and Nebraska)
To make this transition as smooth as possible, we're offering you an exclusive 14-day free trial of Acres Premium. To claim your 14-day free trial of Acres Premium, simply visit the pricing page and click Start Free Trial. No credit card is required. This trial is available for a limited time only.
Map Settings Rework
Map settings have been reworked to make CLU option more visible, and it now appears at the top of the screen.

Clicking on the drop-down arrow next to Parcel allows you to enable or disable owner names on parcels if you are subscribed to Premium or Enterprise.
Search Rework
The search bar has been removed from the top of the screen and can now be accessed from the side navigation under Search.

Tabs have been created for both "Basic" and "Advanced" search options. To access Advanced search filter, you must have a Premium subscription or above.

Searching a location adds it to a running search history along with a small satellite image of the location.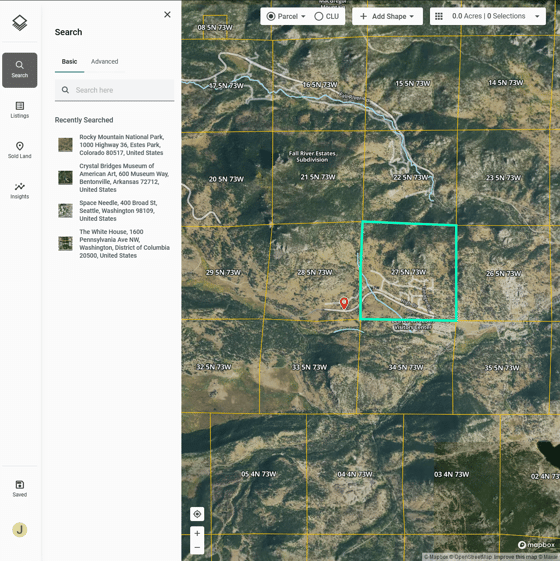 Associated Comps in PDF Reports for Enterprise Subscribers
Associated Comps is now an optional category that you can include with your PDF reports if you are an Enterprise subscriber. In order to add associated comps, you must already have sales saved to the subject property.