Learn how to add map selections with insight layers to your own website using Acres' embed function.
In this article, you'll learn how to embed an Acres map within another website. This allows your users to see property lines, context, and insights about a selection of your choosing while remaining on your site—even if they don't have an Acres account.
Select what you want to share
First, choose the Acres selection you want to share. You can do this by clicking a single parcel or set of parcels within the plat map.
It isn't necessary that the parcels be adjacent, although the more proximate they are, the more detailed the view on the map you generate will be.
You can also share a custom selection you created using the draw tool.
Whatever appears in the selection panel is what will be displayed in your embedded map.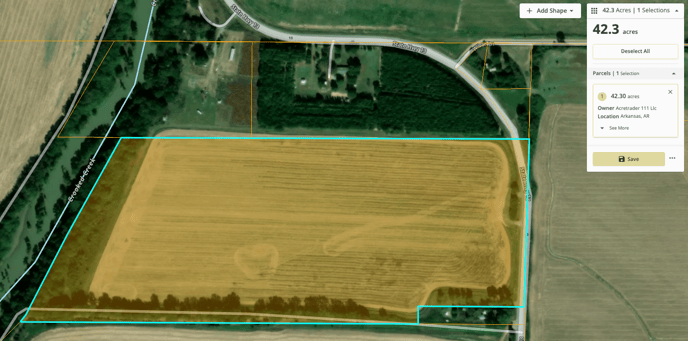 Generate your embed code or link
In the selections panel, find the "More" menu (the three dots next to the save button). Click … > Embed Code.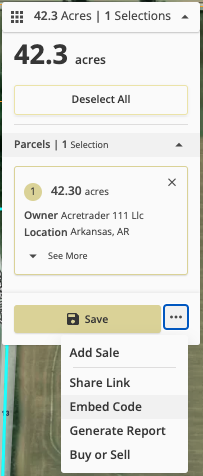 In the dialogue box that appears, you can select the insight layers you'd like to make available within your embedded map. Currently, there are three options: Soils, Crop History, and Elevation.
You can opt to include all three or check only the one(s) you want to display.
Now, generate your embed code or a URL. For an <iframe> embed code, click the copy button next to the code field.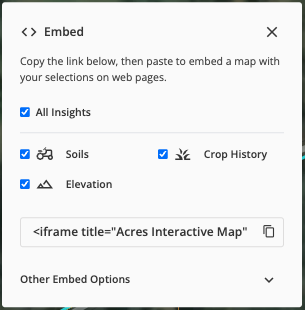 For a URL, find the dropdown arrow caret next to "Other Embed Options." Click V > Copy URL Link.

Add the map to your site
Using <iframe> code
Now, paste the code into the HTML section of your own website.
Within your CMS, navigate to the page where you want the map to appear, and open it in edit mode. Click the specific location within the text or code where you'd like to place the map, and paste (CTRL + V or Edit > Paste) into the edit field.
Now save your changes, and check out your results on the public display of your web page.
If you used the embed code, you should see a simplified version of your Acres map within your site content containing the insight layer options you selected.
Using URL
If you generated a URL, you can use it to add a hyperlink to a section of text on your page or simply paste in the link itself.
Save, and your map will open in a new window.
Share your page
Now, your users can explore your map selection and data insights. Within the shared insight layers, users have the option to "See more" to take a deeper dive.
Please note: Using embedded or linked Acres content on your own site implies your agreement with Acres' Terms of Service.