Saved Land now added to the plat map, plus new soil data and parcel information is now available.
Get ready. This release is a big one. The Acres team built an entire Saved Land experience for the plat map, made additional parcel information available, and added data to the soil layer. Keep reading for the details!
Additional Parcel Details Available
When you select a parcel and click View More Details, it will now open a Parcel Details panel. If you have a Premium plan or higher, you will now be able to view Owner 2 when there is a second owner listed for a property.
Enterprise users can now view the following information where available:
Total Assessed Value
Assessed Land Value
Assessed Improvements Value
Assessed Year
County Use Description
Legal Description
If you aren't currently subscribed, you'll be able to see what information is available for a selected parcel. You can start a free trial of Premium on the pricing page or request an Enterprise demo.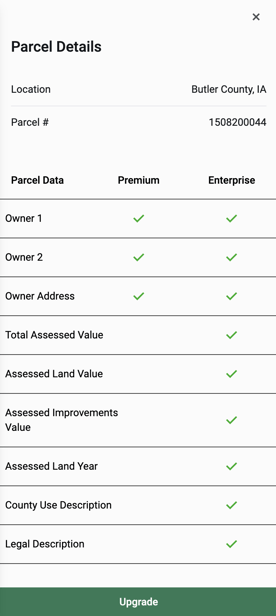 Soils Layer Additions
The Soils layer data table now includes two new fields: Soil Code and Non-irrigated Class. This applies to our soil data nationwide.
For California specifically, we are now featuring the Storie index for soil scores. Users can toggle between Storie scores and the national NCCPI.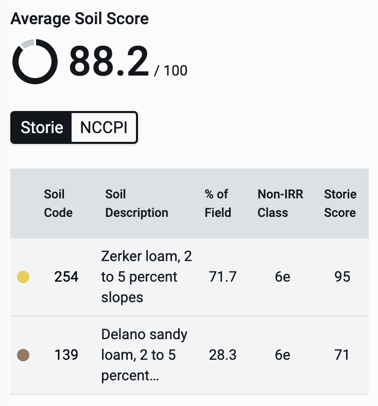 Saved Land on the Plat Map
Now you can view your Saved Land right on the plat map instead of going to your Portfolio view.
Update Existing Saves
This also means you can update your existing saved selections on the plat map.
First, click on your saved land. Then, check the box next to your save in the panel on the left. Click Add to selections. Select additional parcels, then click save. You will receive a prompt to update your saved selection or create a new one.
Click Share For Embed Code
If you want to embed an Acres map on a website or listing, simply click share in the spillover menu, and it is now included in your sharing options.