New timberland layer, add search results to selections, and increased acreage limit for custom selections.
New layer! Forisk Timber Mills Data
Did you see the news? Acres is teaming up with Forisk Consulting, the leader in analyzing timber markets and wood baskets, to bring you access to the timber mill database within the Acres platform.
You can preview this layer along with the site index layer on Tuesday, October 3rd during this live webinar.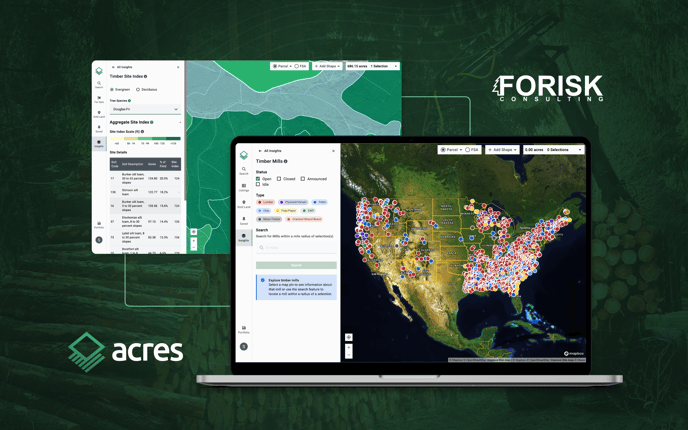 Add Search Results Directly to Selections
Now, you can add Advanced Search results to the selections panel by clicking the check boxes and then clicking Add to Selections.
Don't have access to Advanced Search yet? Start your Premium trial to give it a test drive.
Timber Site Index Available in Reports
Enterprise users can add timber site index to PDF reports. To learn more about Enterprise subscriptions, schedule a call with our team.
Draw Tool Limit Increased to 10k Acres
The draw tool limit has increased to 10,000 acres, giving you the ability to make larger custom selections.